Biden At Munich Security Conference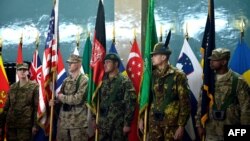 "It's hard to imagine a single threat or a single opportunity that cannot be addressed more effectively if we do so together."
Since its inception in 1963, the Munich Security Conference has gathered top figures from around the world to exchange views on current international security issues and concerns.
At this year's gathering, Vice President Joseph Biden looked at the changes that had taken place in the past four years, when he first presented the Obama Administration's proposals on dealing with some of the most pressing foreign policy challenges. "Those challenges included Iraq and Afghanistan; addressing the failure of Iran to meet the international obligations with regard to its nuclear program; managing the crisis of the global economy. . . . fighting terrorism; repairing our relationships between the United States and Russia," he said.
At this year's conference, Vice President Biden reflected on the progress that has been made on many of these challenges through strong cooperation among nations and transnational institutions.
"We ended the war in Iraq responsibly. And together we're responsibly drawing down in Afghanistan, and by the end of next year, the transition will be complete," said the Vice President.
The global community again worked together to address threats posed by the global recession; international terrorism; nuclear weapons proliferation. It imposed sanctions on Iran when it refused to meet its international obligations. It worked out plans to combat global climate change; pursue the goal of Middle East Peace; and strengthen the democracies in Southeast Asia, Latin America, sub-Saharan Africa and across the Middle East.
And throughout this process, and in the future, Europe, our oldest and closest ally, has remained the United States' "indispensable partner of first resort," said Vice President Biden.
"Time and again, when it comes to a search for partners in this extremely complex world, Europe and America still look to each other before they look anywhere else," he said.
"It's hard to imagine a single threat or a single opportunity that cannot be addressed more effectively if we do so together. Simply put. . . Europe is the cornerstone of our engagement with the rest of the world and is the catalyst for our global cooperation."
Reflecting the Views of the U.S. Government as Broadcast on The Voice of America