U.S. Condemns Shooting In Afghanistan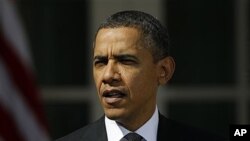 The American people share the outrage.
Officials across the United States government have condemned the shooting deaths of more than a dozen Afghan civilians in Kandahar province. An American army sergeant allegedly walked from the military base where he was stationed and broke into village houses opening fire on the occupants. In addition to the dead, including nine children, at least five Afghan civilians were wounded.
In a statement released by the White House, President Barack Obama expressed deep sorrow over the incident, offering his condolences "to the families and loved ones of those who lost their lives and to the people of Afghanistan who have endured too much violence and suffering."
U.S. Defense Secretary Leon Panetta condemned the incident, expressing shock and sorrow "that a U.S. service member is alleged to be involved, clearly acting outside his chain of command." Mr. Panetta said in a statement that he told Afghan President Hamid Karzai in a phone call that "the American people share the outrage felt by [him] and his fellow citizens. This tragic incident," he said, "does not reflect the commitment of the U.S. military to protect the Afghan people and help build a strong and stable Afghanistan."
The suspect in the shootings surrendered to the United States military and is currently in custody. In a statement ISAF Commander General John Allen pledged his "commitment to a rapid and thorough investigation" of the case. He added that this "appalling incident in no way represents the values of ISAF and coalition troops or the abiding respect we feel for the Afghan people. Nor does it impugn or diminish the spirit of cooperation and partnership we have worked so hard to foster with the Afghan National Security Forces. ... I am absolutely dedicated to making sure that anyone who is found to have committed wrong-doing is held fully accountable."
The American Embassy in Kabul in a statement underscored U.S. "commitment to an enduring partnership with Afghanistan to obtain greater peace and security in the region, which is our common interest. We deplore any attack by a member of the U.S. Armed Forces against innocent civilians, and denounce all violence against civilians. We assure the people of Afghanistan that the individual or individuals responsible for this act will be identified and brought to justice."
Reflecting the Views of the U.S. Government as Broadcast on The Voice of America