U.S. Support for Burma's Evolution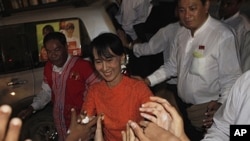 Five years ago, Burma started moving toward an increasingly democratic rule.
Five years ago, Burma, newly emerging from five decades of military rule, started moving toward an increasingly democratic rule. According to senior U.S. government officials Assistant Secretary for Democracy, Human Rights, and Labor Tom Malinowski; Principal Deputy Assistant Secretary for East Asian and Pacific Affairs, Scot Marciel; and Assistant Administrator for USAID, Jonathan Stivers in testimony before the U.S. House Foreign Affairs Committee on June 11th, "Burma is undergoing an evolution, not a revolution — with each step carefully negotiated between representatives of its old and new orders."
"[Burma] is still dealing with the multiple legacies of its former dictatorship — one of the world's longest running armed conflicts, a constitution that grants the military extraordinary powers, and ethnic and religious tensions that cannot be addressed in a closed society and that irresponsible political forces can exploit in a society that is opening."
This is an important year for Burma, which will hold a national election in November. "A successful transition [to democracy] will depend on the government's continued dialogue with civil society, ethnic groups, and the political opposition to build trust and foster national reconciliation; constitutional amendments to reduce the military's role in the civilian government and improve the people's ability to elect the leaders of their choice; and additional measures to protect the rights of members of ethnic and religious minorities."
The country is ethnically diverse, with 135 officially-recognized ethnic nationalities and a history of ethnic conflict. The humanitarian situation in Rakhine State remains grim, and we continue to underscore with the Burmese government the importance of addressing the root causes driving Rohingya migrants to leave their country. The Burmese government has begun to take steps to resolve some of the long-standing problems, including engaging in negotiations with ethnic armed groups in the country.
In his testimony before the House Foreign Relations Committee, Assistant Secretary Malinowski noted that "it is critical that the parties engage in an inclusive, transparent, and meaningful political dialogue that addresses long-standing differences. The United States, in coordination with other members of the international community, will continue to support the peace process going forward."
"This is an opportunity for Burma to set an example of peaceful transition to democracy for other countries in the region."
Reflecting the Views of the U.S. Government as Broadcast on The Voice of America