Kerry On ASEAN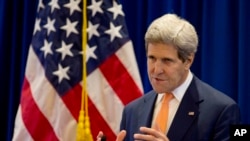 "ASEAN is at the center of the [Asia-Pacific] region's multilateral architecture, and it plays a critical role in promoting both peace, prosperity, and also a regional integration throughout Asia."
"Much of the history of the 21st century is going to be written right here in Asia," U.S. Secretary of State John Kerry said at the U.S.-ASEAN Ministerial Meeting recently held in Burma. "ASEAN is at the center of the [Asia-Pacific] region's multilateral architecture, and it plays a critical role in promoting both peace, prosperity, and also a regional integration throughout Asia."
The United States remains deeply committed to engaging the Asia-Pacific region.
"ASEAN, in our judgment, is fundamental to [our] being able to uphold a rules-based system in the Asia Pacific, and ensuring that all countries, big and small, have a say in how we work together," Secretary Kerry said.
"We're strengthening our people-to-people ties through President [Barack] Obama's Young Southeast Asian Leaders Initiative, which . . . provides critical leadership in development and networking in ASEAN. We're supporting the formation of the ASEAN Economic Community in 2015, which will sustain the prosperity of the ASEAN region . . . We're also working closely together to protect the environment."
"We recognize the tremendous economic dynamism of this region and its people," he continued. "We also recognize our shared prosperity demands a renewed commitment to sustainable economic growth. That is why we're focused not only on growing our countries and making them stronger, but on also growing fair and just societies, particularly countries with clean air, clean water, and shared river resources for all Southeast Asian nations."
The United States and ASEAN have a common responsibility in maintaining peace and stability on the high seas, and to ensure the maritime security that is critical to global trade.
Secretary Kerry stressed the importance of managing tensions in the South China Sea on the basis of international law. This means voluntarily agreeing to refrain from actions that would "complicate or escalate disputes."
"It's no understatement that what happens here matters not just to this region and to the United States," Secretary Kerry said. "It matters to everybody in the world to see a Southeast Asia that continues to grow based on rules-based international law."
Reflecting the Views of the U.S. Government as Broadcast on The Voice of America